Ducks' closer Jimmie Sherfy got the nickname "Wild Thing" because of his long blond hair, his animated demeanor, his follow-throughs on pitches … heck, maybe he howls at full moons. I don't know the guy. But I think one of the biggest reasons he shares Ricky Vaughn's nickname from Major League is because his pitches last year were often as unpredictable as Eugene weather.
This season, Sherfy still has the hair, the charisma, and the lively pitching mechanics (I'm still searching for an answer on the wolf behavior), but the control issues on the mound have all but disappeared.
Sherfy's 2012 campaign was by no means a poor one. He posted a 2.20 ERA and struck out 35% of the batters he faced on his way to becoming a Second Team All-American. However, when you look at the control issues he went through, these results might have been a tad bit lucky. 34 walks, 13 (yep, 13) hit batsmen, and 4 wild pitches are far too many for any pitcher, especially a reliever who appeared in 61.1 innings.
This year, his strikeout rate is the same elite 35% and his opponents' batting average (BA) is just a tick above last year's mark, but his ERA is a ridiculously good 0.96. So, if he's not striking out more batters or giving up fewer hits, why has ERA improved this much?
Three reasons: control, control, and more control.
In 2012, Sherfy walked or hit a batter in 17.6% of the plate appearances against him. This season, he's cut that number to 8%. In fact, he hasn't hit anyone in 28 innings this year. He's also only thrown one wild pitch.
But these numbers don't completely prove that Sherfy has fixed his control and command issues. Maybe hitters haven't been as patient against Sherfy this year as they were last year. Maybe they're great dodgeball players, thus avoiding getting hit by his pitches. Maybe Oregon's catchers have blocked a ton of potential wild pitches.
Sorry number haters, but the eye test tells the same story as the stats: Sherfy has been throwing darts.
Here are two screenshots from a pitch Sherfy threw against Oregon State on April 9:
In the top image, catcher Josh Graham is setting up for Sherfy to throw the pitch low and outside. As you can see in the second image, Graham barely had to move his glove on this perfect slider from Sherfy (called a strike, by the way).
If every pitch Sherfy threw was a carbon copy of this 2-0 slider, he would never give up a hit. The movement and location are impeccable. That said, the aspects of this pitch that make it so special are not location and movement. It's brilliance comes from the facts that a) it's in a 2-0 count, and b) it's a slider.
As I mentioned last week, 2-0 counts are often called "hitters' counts." This is because some pitchers don't trust anything other than their fastball in these counts and aren't precise enough to locate their fastball on a corner of the strike zone, therefore throwing it right down the middle. A pitcher who has the confidence to hit a corner with an off-speed pitch in these counts is rare; a pitcher who can execute it is like an albino condor. Sherfy is one of the condors.
——————
Back in February, Sherfy had been struggling a bit with his slider, but head coach George Horton said he wasn't too worried because that's been Sherfy's best pitch since he put on an Oregon uniform. The other parts of Sherfy's repertoire were what really caught his coach's attention.
"If he can maintain his command with his fastball and changeup, we might even see a better version of Jimmie Sherfy," Horton said.
We already know that a better version of Sherfy has shown up this season, so has he maintained his fastball and changeup command?
Yup.
To prove it, here are some Sherfy fastballs:
Sherfy could afford to throw some mistakes with his fastball because he consistently throws 91-95 MPH with movement, so pitches like these (all strikes) are basically unhittable.
The pitch in the third screenshot is especially nasty. The batter initially thinks this fastball is going to hit him, but it moves all the way back towards the plate, resulting in a strikeout. Again, unhittable.
Here are a couple Sherfy changeups:
Just like his slider, Sherfy's changeup has a ton of downward movement, and he's been able to command it the entire season.
——————
As I was watching film of Sherfy destroying hitters' souls, I noticed another thing he does that make at bats a living hell for opposing hitters: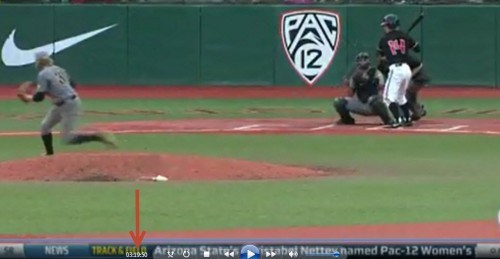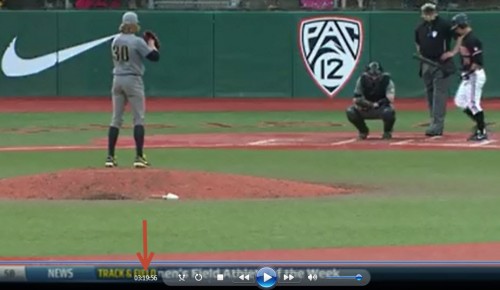 Look at the time from each screenshot that the red arrows are pointing to. Six seconds after Sherfy throws the pitch in the first image, he's already set to throw the next pitch. In the second image, the OSU player hasn't even stepped back into the batter's box, yet Sherfy is 100% ready to go.
This is a very subtle technique and it's impossible to know how much this really affects hitters, but these quick sets certainly add an extra dose of intimidation to an already fearsome pitcher.
——————
Last year, Sherfy and the Ducks ended their season in heartbreaking fashion. It would be unfair to blame Sherfy for that fatal bloop hit, but it came on the heels of a season from the "good, not great" category, both for the Ducks and Sherfy. He was still one of the best closers in the nation, but he put himself in tough situations seemingly every time he took the mound. As that final game against Kent State proved, the breaks aren't always going to fall your way in baseball.
This year, however, Sherfy has done his best to eliminate any scenario where a bloop hit would score a run. His stuff has always been elite; now he's putting those nasty pitches in perfect spots, which is why he has allowed so few base runners.
"Controlled Thing" might not be a very appealing nickname for Sherfy, but for this season, it would be much more fitting than his current one.

Visit our Sister Site, the new Our Beloved Ducks Forum!
This new forum that is unlike anything you have ever seen between our civilized discussion, (NO TROLLS ALLOWED) complete directions available for easy usage and the delivery of all Oregon Sports News.  (That last part is a gradual transition up to Spring Football)
Go to the forum where we delve into today's article and so many more topics and the nuances within them over there.
We have a topic post begun over at the forum for today's article; it is a free site and offers more opportunity for the exchange of opinions on all the Oregon Sports subjects of the day. (And there are some very cool features!)
An introduction article about the new forum is right here.