Watch any Major League Baseball game when a fearsome hitter like Miguel Cabrera is batting, and you're bound to hear announcers talk about how much fear he instills in opposing pitchers.  Watch a Ducks game when Ryon Healy is at bat, and you'll hear announcers say the same things.  I can't read pitchers' minds, but it would honestly be a little strange if they looked at Healy the same way they looked at other hitters.
It's a fact that Healy is intimidating before he even takes a swing.  Being 6'5″ and 230 pounds certainly doesn't hurt, but even the way he stands in the batter's box could cause a pitcher to take a couple more deep breaths.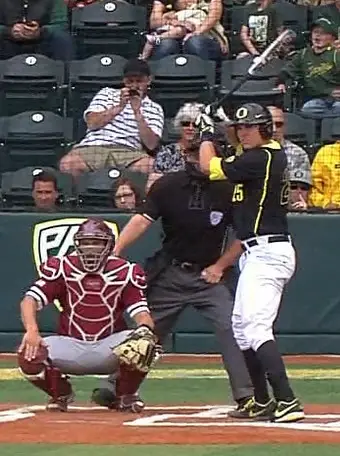 This is a classic power hitter stance.  He's so calm and confident that it's hard to imagine he could ever be overly aggressive or take an off-balance swing.
Oh, but he does, and he does so all the time.
Healy is tied with the uber-patient Brett Thomas for second on the Ducks in on-base percentage (OBP), so it's not like he's Josh Hamilton out there.  That being said, he's had his share of  "What is he doing?!" swings, like this one: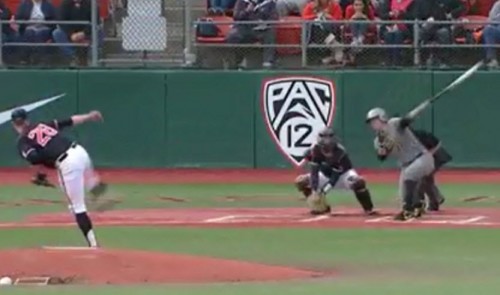 Here, Healy is swinging at a 1-0 slider in the top of the 1st inning with a man on first base.  The pitch never comes close to the strike zone and the situation calls for a patient approach, yet Healy swings away.  The smooth, powerful hitter standing in the box just seconds earlier suddenly looks like me from Little League.
Next pitch, however: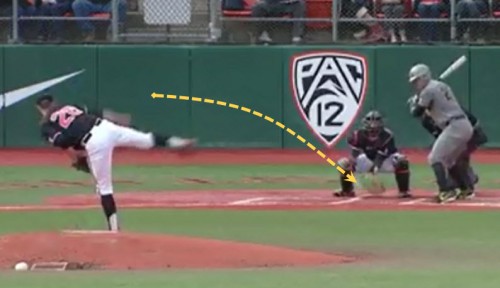 This is also a slider, only it's closer to the strike zone and has nastier movement than the previous pitch.
Healy doesn't even flinch.
His body language is basically saying, "Sure, I was fooled by the first slider, but you'd be an idiot to think I'd swing at that again."
Many hitters don't get good reads on certain pitches, so pitchers continue to throw outside of the strike zone until the batters lay off.  Some batters continue to swing and miss.  Not Healy.  His takes, like the one above, can be so nonchalant, you wonder if those wild swings are just meant to give pitchers a false sense of confidence.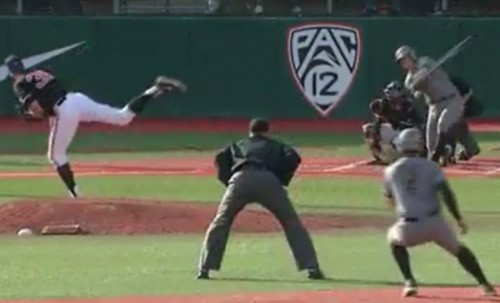 This is a first-pitch changeup by Oregon State reliever Tony Bryant, and Healy swings way too early.  Two pitches later, Bryant throws another changeup, which again fools Healy.  Then in a 2-2 count, Bryant throws this sinker:
Healy probably had a harder time deciding what to eat for breakfast this morning than he did taking this pitch.  While it isn't a changeup, the pitch still has down-and-in movement and isn't too far from the strike zone.  There are also two strikes in the count with a runner on second base, yet Healy has zero intentions of swinging.
The next pitch isn't close, resulting in a walk.  So, to recap: Healy took two hard swings on pitches he missed by a mile, and he still drew a walk.  Not many hitters can do both things in one plate appearance.
These adjustments, more than anything else, are why Healy has been one of the PAC-12's best players this season.  If pitchers are lucky, they'll be able to fool Healy once or twice a plate appearance, but if they keep throwing balls, he'll force a walk.  If pitchers attack the strike zone, they better have sniper accuracy because Healy will destroy mistakes in strike zone location.
The pitcher here coasts a first-pitch fastball right down the middle, and Healy crushes it towards on the ground to the left.  Unfortunately for Healy, the third baseman is perfectly positioned and makes a nice snag, throwing Healy out at first. Good ol' batted ball luck claims another victim.
There's no such bad luck here – Healy smokes it past the second baseman for a base hit.
The key thing about this hit is Healy's approach.  The pitch is on the outside edge of the strike zone, so instead of trying to crush it to left field — which would likely result in a weak grounder — he simply goes with the location and hits it to right-center.
Speaking of opposite-field approaches…
These are Healy's two home run swings from Oregon's game against Stanford on April 27.  While both pitches catch too much of the strike zone, they're not hanging breaking balls over the heart of the plate, either.  Many hitters would have weakly hit these pitches to the left side of the infield.  Healy isn't "many hitters".  He simply swings to the location of both pitches like he did in the Washington screenshot, and because they are high in the strike zone he's able to elevate them over the right field fence.
If you're a pitcher, how on Earth do you attack this guy?  He can hit to all fields with power.  He rarely gets fooled, but if he does, he makes immediate adjustments.  If you challenge him and make the slightest mistake, just hope the ball stays in the yard.  If you try to get him to chase outside of the zone, he'll casually watch the pitches go by and take his base on balls.
Walking Healy might sound like the best option, but Mitchell Tolman is hitting right behind him.  Tolman has a .351/.431/.468 (Batting Average/OBP/Slugging) slash line this season.  Maybe pitchers should just throw fastballs down the middle to Healy and hope he has the worst batted ball luck in the history of baseball.  It can't be much worse than the other options.
Healy recently won PAC-12 Player of the Week for his performances against Stanford and Portland.  He leads the conference with 10 HRs, and he's near the top in Batting, OBP, and Slugging.  I try to avoid hyperbole at all costs, so this opinion is 100% genuine: the PAC-12 Player of the Year award is currently Healy's to lose.
Visit our Sister Site, the new Our Beloved Ducks Forum!
This new forum that is unlike anything you have ever seen between our civilized discussion, (NO TROLLS ALLOWED) complete directions available for easy usage and the delivery of all Oregon Sports News.  (That last part is a gradual transition up to Spring Football)
Go to the forum where we delve into today's article and so many more topics and the nuances within them over there.
We have a topic post begun over at the forum for today's article; it is a free site and offers more opportunity for the exchange of opinions on all the Oregon Sports subjects of the day. (And there are some very cool features!)
An introduction article about the new forum is right here.