Calling J.J. Altobelli the best defensive player on the Ducks is like calling Ryon Healy the best offensive player. It's a reach to argue otherwise.
Even though Oregon is a fantastic overall defensive team with basically zero weak spots among the eight positions, Altobelli stands out the most. He's a wizard with the glove, he's got a strong, accurate arm, and he plays shortstop – quite possibly the most difficult position to play on a baseball field. He could hit .200 and still provide value to his team. His defense is that good.
For the entire regular season (which ended on Sunday), Altobelli hit .290, had a .381 OBP, drew more walks than strikeouts, and stole 8 bases in 11 attempts. Gravy, icing on the cake, cherry on top – these are all overused clichés, but they're also great at describing Altobelli's offensive production this season. His offensive numbers are so good, he might even be the best two-way player on the Ducks.
Altobelli's plate appearances won't amaze anyone, but he, like Brett Thomas, is in no hurry to leave the batter's box. He will wait as long as necessary for a good pitch to hit.
This pitch is a fastball just off the plate in a two-strike count. It takes a super calm approach and a great eye to take a pitch like this, and Altobelli has demonstrated such patience in countless at bats this season. (He hit a single up the middle on the next pitch, by the way.)
Altobelli isn't a predictable hitter, though. If a pitcher throws him a meatball early in the count, he will take advantage: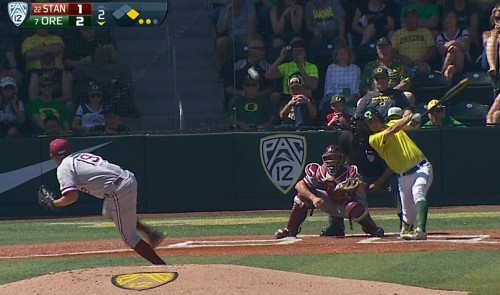 This is the first pitch of the AB. Altobelli gets a fastball down the middle and smacks it to right-center field for a single. The pitcher might've thought he could steal a first-pitch strike because Altobelli is so patient, but Altobelli is too good of hitter to take such a good pitch to hit.
This versatility and patience at the plate provides so much extra value to the Ducks because he's such a stud defensively. He's like a restaurant that's cheap and serves delicious food.
But enough about the offense; let's look at Altobelli's spectacular work in the field.
I love watching him play shortstop not just because he's so good at it, but because defense is almost impossible to judge with statistics, especially in college.
Fielding percentage is probably the most advanced defensive stat you'll find at the college level, but it's not a good barometer of a player's defensive ability. One of the biggest problems with this stat is that it penalizes each player equally for the errors they commit (the "error" stat is even more flawed). A shortstop, like Altobelli, has much a higher margin for error than just about any position on the field, so fielding and throwing mistakes are more likely to occur. A first baseman, for instance, doesn't have nearly as much ground to cover, and he doesn't make nearly as many throws (his throws are typically easier than a shortstop's, too).
So, if you want to see the quality of a college player's defense, you have to watch him. Ducks fans certainly aren't complaining.
Altobelli, like every good shortstop, makes everything look easy. I'm not even exaggerating; every play he makes looks effortless. He handles routine plays like he's a video game shortstop on the beginner's level, and he's so smooth on the tougher plays that it's almost impossible to appreciate how difficult they actually are.
On this play, Stanford's Austin Wilson hits a high chopper towards Altobelli, forcing the shortstop to run hard towards to ball, make a split-second exchange from his glove to his hand, and throw on the run, narrowly forcing Wilson out. This image shows the moment when Altobelli fields the ball and is getting ready to throw it. Not once did this play look difficult for Altobelli, even though it would be a nightmare for most infielders.
This play illustrates how quick Altobelli reacts to balls hit in play: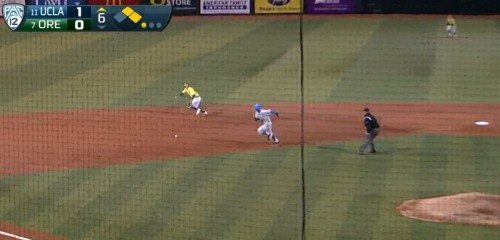 In this shot, the batter hits a sharp ground ball to Altobelli's right, and you can see how far he has to run by how much he's leaning.
Here's an image of the throw he makes to second base, less than a second after the shot above: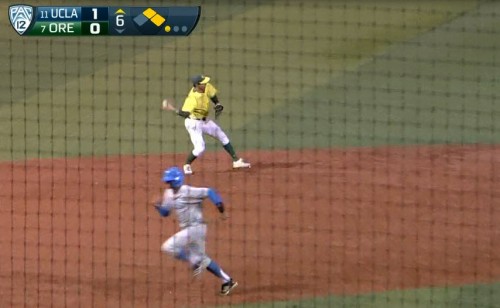 All of his momentum is to his right, so he's severely off-balance when he makes this throw, but he's still able to get the runner out at second. While the throw is certainly tough, the most impressive part of this play is getting to the ball. He reacted so quickly to the ball off the bat, which gave him the extra step he needed to field it and make a throw. These lightning fast jumps are the norm for Altobelli, and they're the reasons his range is so elite.
No play exemplifies Altobelli's amazing defense quite like the one shown in these three clips: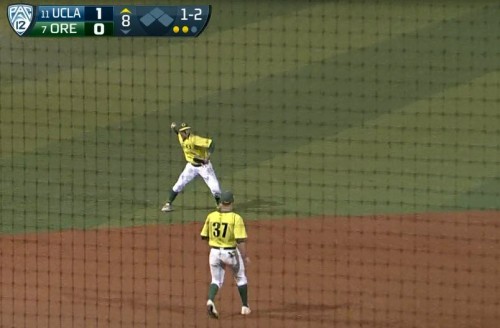 Images don't do this play justice. The sliding stop he makes on the ball in the first clip is so deep in the shortstop hole that any chance at getting up fast enough and making a strong throw seem impossible.
But as the second shot shows, he gets up right away (a split second after the slide) and gives himself a pretty decent chance at making a good throw.
He throws a one-hopper to Healy — who makes a nice play, himself — and gets the runner out. Unfortunately, the ump missed the call, so an out wasn't recorded, but that doesn't take away from the brilliance of Altobelli's play.
He first shows off his range, which allows him to get to the tough grounder. Then, we see his underrated athleticism, which enables him to quickly pop up to his feet. Finally, he shows everyone his sniper rifle of an arm, throwing the ball powerfully and accurately to first
There's no doubt that Altobelli can do everything on defense, but then you look at his hitting and baserunning abilities, and you realize he can do just about anything on a baseball field (lack of power hitting being his one flaw). He might be more valuable to his team than anyone can imagine.

Visit our Sister Site, the new Our Beloved Ducks Forum!
This new forum that is unlike anything you have ever seen between our civilized discussion, (NO TROLLS ALLOWED) complete directions available for easy usage and the delivery of all Oregon Sports News.  (That last part is a gradual transition up to Spring Football)
Go to the forum where we delve into today's article and so many more topics and the nuances within them over there.
We have a topic post begun over at the forum for today's article; it is a free site and offers more opportunity for the exchange of opinions on all the Oregon Sports subjects of the day. (And there are some very cool features!)
An introduction article about the new forum is right here.