After a shaky first inning and beautiful diving play by Oregon Ducks third baseman Matt Eureste to end the threat, (starting pitcher) David Peterson dialed in to start the second inning of the Saturday game against St. John's and never looked back. Peterson dealt with some adversity early, as he was not finding a good rhythm with his pitches. However, his perseverance rewarded him the next few trips to the mound, turning him into a different pitcher. Let's take a look at what made Peterson special during his outing against St. John's.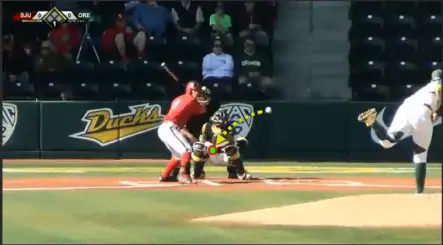 Peterson got off to a rough start on the mound, dealing with location mistakes and lack of command. In the image above,  Peterson's pitch was to go inside (as seen from the arrow and dot where the ball should have met the catcher's glove) to jam the batter resulting in a poor swing or freeze-up to take a strike. Unfortunately, the result went in favor of St. John's batters, setting them up for a big inning to start the game.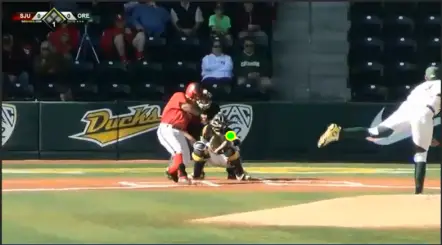 Lack of command resulted in Peterson putting himself in a jam. In the above image, Catcher Tim Susnara wanted to go inside, but the ball stayed towards the middle of the plate (Green dot in photo above is where the ball is.) allowing a good swing to send the ball to left field. Mistakes with location loaded the bases for St. John's, which was looking to deal some damage on the scoreboard at the expense of Peterson. After a visit on the mound from Oregon Head Coach George Horton, Peterson dug down and maneuvered his way out of the jam, leaving St. John's players scratching their heads.
In the second inning, Peterson found his groove and St. John's day at the plate turned to frustration. In the video above, Peterson threw a curve ball that started high and dipped significantly at the end for a swing and a miss for a strike three. Notice the dip from where the ball was released and how much it curved down into the catching glove. With his first strikeout, Peterson found his rhythm and started dealing. Peterson's fastball is his bread and butter, but his off speed pitches complement his fastball which are effective when getting a feel for them.
It can be downright nasty from the video above.
Let's talk a little about his defensive skills from the video above. Wheeling and dealing since the second inning may have turned Peterson around, but some defensive plays kept the momentum in his favor. Having some height can come in handy when flashing the glove on a big hop to turn a double play. Also worth noting in the video above is the throw by Peterson. Throwing a quick strike to shortstop Daniel Patzlaff allowed him to make a quick exchange from the glove to throw out the runner at first. If Peterson did not make a solid throw to Patzlaff, the runner for St. John's would have made it to first safely from slow execution.
Not only can Peterson pitch, but he has some nice foot work when fielding grounders. In the video above, watch how Peterson fields a bunt. He scoops the ball up, turns, squares up first baseman Brandon Cuddy, and throws a dart for the out at first. For being a left-handed pitcher, momentum tends to go towards the third base line. Peterson, however, gets back into a defensive position from his pitch in reaction to the batter throwing down a bunt, and makes the play.
Oregon was in need of quality pitching and so far has gotten solid outings from its pitchers. With being just a freshman, David Peterson has has shown maturity from his early starts. Once finding his groove, Peterson worked efficiently when on the mound and was a force to deal with. Although he left during the eighth with the bases loaded, Peterson put the team in great position to win the game from earlier innings. He definitely has plenty of upside and room to grow into a well-rounded pitcher. Should Peterson gain command early in the game, it will be a rough time at the plate for opponents.
This may be baseball, but "Oh how we love to learn about our beloved Ducks!"
Andrew Bet
Oregon Baseball Analyst for CFF Network/FishDuck.com
Eugene, Oregon
Top Photo by Dave Peaks
My name is Andrew Bet and I am currently a Journalism student at the University of Oregon. Born in Bethlehem, PA and raised in San Mateo, California it was easy for me to kindle an interest in sports considering all the college and professionals teams who call the Bay Area home. Some of the teams I enjoy following are the University of Oregon, Stanford, San Francisco Giants, San Jose Sharks, Oakland A's, San Jose Earthquakes, Philadelphia Eagles and Flyers and the European Soccer League. During my youth, I played soccer and baseball. Today, I enjoy playing golf and bowling. My dream is to combine writing and my passion for sports and become a sports writer for one of my favorite teams. Follow me on Twitter: @ACB_Ducks12
FishDuck Has New Off-Season Schedule and see the OUR BELOVED DUCKS Forum!
FishDuck articles will now be on Monday-Tuesday-Wednesday only during the off-season, and then we will go back to seven days a week during the football season beginning in August.
We will have some occasional guest articles later in the week, but the hottest Oregon football information will be posted in the OBD forum!
The Our Beloved Ducks Forum (OBD) is where we we discuss the article above and many more topics, as it is so much easier in a message board format over there.  At the free OBD forum we will be posting Oregon Sports article links, the daily Press Releases from the Athletic Department and the news coming out every day.
Be a part of the forum and stay caught up!  When you wish to post there, do know that you are protected just as you were on FishDuck. Join us on the free forum right here!
Our 33 rules at the free OBD Forum can be summarized to this: 1) be polite and respectful, 2) keep it clean, and 3) no reference of any kind to politics. Easy-peasy!
OBD Forum members….we got your back.  No Trolls Allowed!