My friends – I went looking for information about Duke basketball, and ran into an article that just dumped all the material you can to brag about a team into one compact view. The post was supposed to be about the match-up between the Ducks and Blue Devils, but it was all about their tradition, their great coach, the plaudits of their players … I gotta stop before I hurl.
Where was any discussion of Oregon in that?
Keep in mind that this article was written for their fans - the ones who know these facts already! 
Just scanning it brought back memories of entitled Southern Cal football fans, and reminded me of how finding full-of-themselves bandwagoners do not occur in only one conference.
Gawd I hope our beloved Ducks play their most intense defense ever, and hit all their clutch shots to put these fans in the rear-view mirror.
I am lifting the following information from the site DukeReport.com, and you can see the article here if you like.
Duke is making its 15th Sweet 16 appearance since 1998, the most in the nation over that time.
Duke is 9-5 against No. 1 seeds in the NCAA Tournament since seeding began in 1979.
Duke has the best NCAA Tournament winning percentage in the event's history (.797) and ranks third all-time in NCAA Tournament wins (107).
Duke head coach Mike Krzyzewski has won a record 90 NCAA Tournament games. Only one other active coach (Roy WIlliams) has coached in 90 NCAA Tournament contests.
Krzyzewski's record 23 Sweet 16 appearances are five more than the next-closest coach on the list (Jim Boeheim – 18).
Grayson Allen was a first-team all-ACC pick and earned Co-Most Improved Player honors from the coaches. Brandon Ingram was a second-team all-ACC selection and the ACC Freshman of the Year.
Allen was named a second-team CoSIDA academic all-American on March 3 and a Sporting News second-team all-American on March 9.
Allen is on pace to be just the ninth player to lead Duke in both scoring and assists in a season. He could also be the seventh Duke player to average 20+ points and dish out 100 assists in a season.
Among ACC freshmen this season, Ingram leads in scoring (17.1), three-point percentage (.415), rebounding (6.8) and double-doubles (8), and ranks second in blocks (1.4).
Ingram's 17.1 points per game is the highest average among freshmen to reach the regional round of the NCAA Tournament.
Duke's average of 81.5 points per game is the sixth-best among major-conference teams. The Blue Devils rank fourth nationally in offensive efficiency (120.3).
Duke has made 321 three-pointers, the program's second-best single-season total. Allen (88), Ingram (78) and Matt Jones (74) are the first trio in Duke history to each make 70+ threes in a season.
Luke Kennard ranks second in the ACC and ninth nationally with an .889 free throw percentage, third-best in Duke history by a freshman.
Marshall Plumlee has dunked 58 times on the season, tied for the fifth-best single-season total in program history.
Now view a short pre-game video assessment that does not suck up to their illustrious tradition.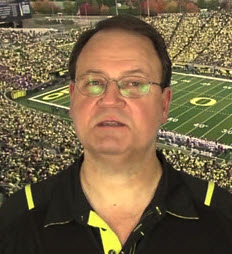 Charles Fischer has been an intense fan of the Ducks, a season ticket holder at Autzen Stadium for 35 years and has written reports on football boards for over 23 years. Known as "FishDuck" on those boards, he is acknowledged for providing intense detail in his scrimmage reports and in his Xs and Os play analyses. He and his wife Lois, have a daughter Christine, reside in Eugene Oregon, where he was a Financial Advisor for 36 years and now focuses full-time on Charitable Planned Giving Workshops for churches and non-profit organizations.
He does not profess to be a coach or analyst, but simply a "hack" that enjoys sharing what he has learned and invites others to correct or add to this body of Oregon Football! See More…
FishDuck Has New Off-Season Schedule and see the OUR BELOVED DUCKS Forum!
FishDuck articles will now be on Monday-Tuesday-Wednesday only during the off-season, and then we will go back to seven days a week during the football season beginning in August.
We will have some occasional guest articles later in the week, but the hottest Oregon football information will be posted in the OBD forum!
The Our Beloved Ducks Forum (OBD) is where we we discuss the article above and many more topics, as it is so much easier in a message board format over there.  At the free OBD forum we will be posting Oregon Sports article links, the daily Press Releases from the Athletic Department and the news coming out every day.
Be a part of the forum and stay caught up!  When you wish to post there, do know that you are protected just as you were on FishDuck. Join us on the free forum right here!
Our 33 rules at the free OBD Forum can be summarized to this: 1) be polite and respectful, 2) keep it clean, and 3) no reference of any kind to politics. Easy-peasy!
OBD Forum members….we got your back.  No Trolls Allowed!