Oregon won only their second regular season Pac-12 Mens Basketball title since WWII Saturday, as they pulled out another tough road win at USC's Galen Center, 76-66 . Winning on the road has been difficult for all conference members and USC had a 16-1 record at home going into this game, as Oregon never dreamed they would survive with Dillon Brooks having a tough game. (Three points)
Different players have been coming to the rescue recently as Elgin Cook had a sensational series against the Washington schools last week, while Tyler Dorsey was the MVP of this weekend as his three pointers and slashing drives to the basket kept the LA schools off-balance. So many times when the Ducks needed a basket badly – it was Dorsey who made a key score.
Dwayne Benjamin pulled out of his recent shooting slump and drained a dagger-three with a minute and a half left to dash the Trojans hopes for any comeback and the celebrating began. The emerging offensive game of Jordan Bell has helped balance the Ducks scoring as his spin moves under the basket, and jump hooks have become high-percentage shots the Ducks can count on.
It was an amazing season for Oregon, and the short highlight video by the Pac-12 reveals some spectacular plays by our beloved Ducks!
Top Photo by Gary Breedlove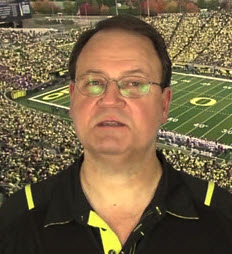 Charles Fischer has been an intense fan of the Ducks, a season ticket holder at Autzen Stadium for 35 years and has written reports on football boards for over 23 years. Known as "FishDuck" on those boards, he is acknowledged for providing intense detail in his scrimmage reports and in his Xs and Os play analyses. He and his wife Lois, have a daughter Christine, reside in Eugene Oregon, where he was a Financial Advisor for 36 years and now focuses full-time on Charitable Planned Giving Workshops for churches and non-profit organizations.
He does not profess to be a coach or analyst, but simply a "hack" that enjoys sharing what he has learned and invites others to correct or add to this body of Oregon Football! See More…
The Comments Below are CLOSED, as we are moving to the OUR BELOVED DUCKS Forum!
Comments below articles are now closed as we have moved all conversation over to the free Our Beloved Ducks Forum. It has been a big success already with many more posts than what we could fit into the comments below articles.
The Our Beloved Ducks Forum is where we we discuss the article above and many more topics, as it is so much easier in a message board format over there.  At the free OBD forum we will be posting Oregon Sports article links, the daily Press Releases from the Athletic Department and the news coming out every day.
Be a part of the forum and stay caught up!  When you wish to post there, do know that you are protected just as you were on FishDuck. Join us on the free forum right here!
Our 33 rules at the free OBD Forum can be summarized to this: 1) be polite and respectful, 2) keep it clean, and 3) no reference of any kind to politics. Easy-peasy!
OBD Forum members….we got your back.  No Trolls Allowed!