Oregon has gone from rags-to-riches in quarterback recruiting in just one year, and it has created an interesting quandary for us as fans to ponder. Should Oregon forget about a quarterback recruit for 2017? I don't have the answers here, and it was one of the interesting little items that sit back in my mind – wondering what the Duck coaching staff will do. I welcome your thoughts …
Why would I ask that? Let's take a look at the stack of quality quarterbacks at Oregon for a moment. Beginning with Travis Jonsen, we have a redshirt freshman who has shown a high upside from the very beginning of the recruiting process.
At The Opening in Beaverton going into his senior year of high school – he was not highly rated due to being labeled as "raw," but by the end of the event he had climbed into the top five in the nation for dual-threat QBs. He is very coachable and soaked up the instruction, improving before everyone's eyes. He was poised for a great fall to learn the Oregon offense when an injury took away his practice time, hence we really didn't know what to expect with this recent Spring Football.
The surprise is not that Jonsen continued to improve but that he is pushing the senior, Dakota Prukop, for the starter's job as a redshirt freshman. FishDuck.com recruiting guru, Mark Flores, wants to wager with me that Travis is going to be the starter against Cal-Davis, but my own observations from the open practice and the Spring Game confirm what we have heard from coaches.
Prukop has a narrow lead, but that could change come this fall. Jonsen is someone who could have helped us win some games last fall where it not for his injury, and I have one Duck-buddy who has declared that "Dakota better not get hurt, as he may not get his starting position back."
Justin Herbert will be joining the team for the fall as a freshman and is the quarterback we know the least about – for now. He is a commanding presence at 6'6 and, as one of the best baseball pitchers in the state (Sheldon High in Eugene), has an arm that can throw the NFL deep-out patterns already. The film on him is fun to watch because he is comfortable with the Zone-Read, and runs a 4.60 forty to make big plays happen.
The best description I came up for him? He is an "AJ Feeley with wheels." As you recall – AJ was another Oregon high schooler (Ontario) who played in the NFL for quite awhile. AJ was a statue, but could really throw the ball.
Our offense would remain primarily the same with Herbert, but I would be amused with the passing tweaks coach Helfrich would add. The Grizzled Ol' Coach, Mike Morris, was telling me about Justin long before anyone was writing about him and declared that the Ducks should offer him. The GOC  is not right every time, but damn – I wish I had his track record as it is pretty impressive on these types of predictions/projections.
We were at the open practice the week before the Spring Game and my Duck-Buddy, Gageac, whispered to me about the poise and presence of a particular quarterback. As I watched I realized that my friend was right, because some guys just have the "it" factor – as Joey Harrington did.
It is in their total body posture, their presence, commands attention from others and I was struck at how this stood out from the other quarterbacks practicing. The man with presence was none other than true freshman Terry Wilson, and I never would have predicted that in advance!
I recall how he is an honor student and a talent that a coach at a national all-star game felt would "be a star" at Oregon. His rocket arm became apparent right away, but it is his running style that so fascinates me. I asked the GOC …"watch the film … doesn't Wilson run like a running back?" I said that because Terry does not look like the typical QB scrambling when he takes off; he tucks it in and now is trying to juke people like he is a running back … and it works! This young Turk is not ready yet, but he very well could be Oregon's next Heisman Trophy candidate before his career at Oregon is finished.  I love the looks of this young man – as a player and as a leader.
Quite a few of us were surprised with the early 2018 verbal commitment of four-star QB Colson Yankoff to the Ducks. Knowing the vetting by Helfrich, Lubick, and now Yost applies – you know he is a good passer and a kind of 'fast' that fits his 6'3 frame. Coming from Coeur d'Alene, Idaho, he has garnered offers but had not yet hit the radar of other big programs yet. My colleague and friend, Dale Newton, wrote a superb article about him on his site, The Duck Stops Here, and I highly recommend it to all. Bottom line is that our QB pipeline looks great.
We have three redshirt or true freshmen quarterbacks available the fall of 2016, and have another QB coming to the Ducks in fall of 2018, so the question remains about whether our Webfoots should take yet another quarterback at LOI day this next February of 2017?
Oregon has the attention of Tua Tagovailoa who attends the same St. Louis high school as did St. Marcus in Honolulu, and is an Alabama commit. He was once thought of as an Oregon "shoo-in," but did not get the attention from Oregon's coaching staff for undisclosed reasons. (Leave it!) He is very fast and has had Mariota-escue type stats, hence a highly talented dual-threat quarterback.
Like you, I am a fan, not an expert and thus am curious as to what fellow fans of our beloved Ducks think about this wonderful dilemma? On one hand – you can never have too many quarterbacks, (Google 1988, 1991,1993, 2007, or 2015 Oregon football seasons) yet if we sign another for 2017 – we would have five quarterbacks on hand? You know at least one (or more) would transfer out and it would mess up their football careers. Yet if you have a chance at a player like Tua … do you really not accept him from that b*st*rd Nick Saban?
I could make a compelling case both ways, and I'll bet there have been some spirited discussions at the Hatfield-Dowlin Complex about this very subject.
Now – What do you think? Give me more than bluster – give your fellow fans your reasons why and give us all an opportunity to learn from one another.
"Oh how we love to learn about our beloved Ducks!"
Charles Fischer  (FishDuck)
College Football Analyst for FishDuck.com
Eugene, Oregon
The top photo of Terry Wilson contributed by Gary Breedlove
 My friends - we are in a massive site conversion process to highlight and feature more than 240 analyses over the last five years, and we will ultimately return to video analysis, as well.  In the meantime – I WILL be writing an article about every ten days, so DO check in and see some of the dandies I've got brewing in me. If you haven't, DO sign up for the newsletter so that when we begin the new format we have you on board with the new articles and analysis. THANKS.  (FishDuck)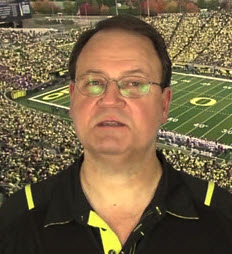 Charles Fischer has been an intense fan of the Ducks, a season ticket holder at Autzen Stadium for 35 years and has written reports on football boards for over 23 years. Known as "FishDuck" on those boards, he is acknowledged for providing intense detail in his scrimmage reports and in his Xs and Os play analyses. He and his wife Lois, have a daughter Christine, reside in Eugene Oregon, where he was a Financial Advisor for 36 years and now focuses full-time on Charitable Planned Giving Workshops for churches and non-profit organizations.
He does not profess to be a coach or analyst, but simply a "hack" that enjoys sharing what he has learned and invites others to correct or add to this body of Oregon Football! See More…
FishDuck Has New Off-Season Schedule and see the OUR BELOVED DUCKS Forum!
FishDuck articles will now be on Monday-Tuesday-Wednesday only during the off-season, and then we will go back to seven days a week during the football season beginning in August.
We will have some occasional guest articles later in the week, but the hottest Oregon football information will be posted in the OBD forum!
The Our Beloved Ducks Forum (OBD) is where we we discuss the article above and many more topics, as it is so much easier in a message board format over there.  At the free OBD forum we will be posting Oregon Sports article links, the daily Press Releases from the Athletic Department and the news coming out every day.
Be a part of the forum and stay caught up!  When you wish to post there, do know that you are protected just as you were on FishDuck. Join us on the free forum right here!
Our 33 rules at the free OBD Forum can be summarized to this: 1) be polite and respectful, 2) keep it clean, and 3) no reference of any kind to politics. Easy-peasy!
OBD Forum members….we got your back.  No Trolls Allowed!