I am going to ponder with you one positive (among many) from this game. I am also pleased to announce what my Halloween costume will be this year, as I think at least it will be a winner. It is pretty simple. I take a long strip of white cloth and make a sling around my neck and wrap it under my arm … I know this costume will scare the hell out of Oregon fans.
I am going as an injured quarterback.
Haven't gained a full appreciation of a quarterback's value? His stunningly disproportionate impact on his team? Exhibit A: the 2017 Oregon football team, as the Ducks have gone from scoring 50 points a game with Justin Herbert down to scoring only 10 points a game in the three contests since. As Evan Moore of the Pac-12 Network noted …
"This is the most I've seen an offense change in this conference

ever

with the loss of one player."
Gee — good call Evan.
Impressed with the Defense? Me Too …
I never thought I would say this about an Oregon team, but the strength has become the defense, primarily because of how inept the offense has become. I am still surprised at how well the defense played with so many underclassmen, especially the flat-out inexperienced freshman who played in the secondary. You saw the graphics on the television screen showing the dramatic statistical improvement of this defense compared to last year … This has been achieved thus far with all the newbies?
I am completely convinced that with this defensive staff intact for the next two years, Oregon will build its best defense ever under defensive coordinator Jim Leavitt. These guys hung with the pinpoint passing of Josh Rosen for 2 1/2 quarters, and if the offense would have done something in the second half, the defense would not have worn down late in the game so badly.
Well that, and the short field given to the Bruins by 4th down attempted by the offense that busted.
It seems that these defenders are so close to making some big plays, and you know it will happen next year and thereafter. That defensive backfield is going to become as studly as the Colorado secondary, which Leavitt and coach Charles Clark built while sending three "buffs" in one year to the NFL. I love the progress I am seeing of La'Mar Winston, who led the team with 11 tackles! It is gratifying to see the upperclassmen who disappeared last year come forward and blossom in the new defense.
With a great offense? That is a defense we could have won with right now, and you can just feel that we have a very, very high upside left to watch in upcoming years. I am just giddy with the progress and never thought it was possible at Oregon — as we are not the best yet — but it feels that our Ducks on defense are on that track.
The Taggart Playbook is Stagnant, so He Is Beginning to Turn To …
I have not written much about the loss of the outside running game at Oregon under coach Willie Taggart. Oh how I've missed the classic Outside Zone Read, and I recall the time a Club Football Coach in Scotland told me that, after his team watched my video, it became their "go-to play"! 
Yep, fun memories. And I loved recalling the infamous Oregon Sweep Read play that featured center Hroniss Grasu leading the way on the perimeter for the running back LaMichael James. Those days are gone, as WCT likes to simply attack inside the box and does not attack the edges of the defense other than the Jet Sweep, which everyone has seen.
Late in the first half I almost gagged gulping on a cup of water, which happens when you are taking a drink and gasping at a play with your Duck-Buddy, Gageac, in the FishDuck ManCave. We could not believe our eyes as we watched center Jake Hansen and guard Shane Lemieux pull and sprint to the outside (green arrow above). Meanwhile, Braxton Burmeister was Zone Reading the defensive end on the backside (red circle above), and since the DE sat, the correct read was to hand off to running back Darrian Felix, who was running a Sweep. It was the Sweep Read from the Chip Kelly/Mark Helfrich Offense!
Note how Burmeister (above) has a pitch man to the outside going one direction with the Sweep going the other! Holy Crap! Remember how after the Arizona State game I wrote wistfully about the old days of innovative plays that we had against ASU in 2011? I showed an example of the Sweep Read one direction with a Speed Double Option going the other. Taggart/Mario Cristobal/Marcus Arroyo brought it back!
My friends, now this is a beautiful thing (above). Look how No. 55 Jake Hansen not only knocked the UCLA linebacker on his butt, but into a perfect Scorpion position! (See Ridiculousness examples.) My gosh — how long had Hansen been wanting to cream someone on the perimeter again? These offensive linemen were recruited to run and create running lanes on the perimeter and giggle later about how they pulverized a linebacker or safety who was foolish enough to get in the way.
Is that what Cristobal is doing, staying late into the night and actually sleeping in his office? Is he checking out other running play options that would work with the newbie, running quarterback? Is he desperate enough to pull out the old playbook of the previous regime? It was such a surprise to see that particular play again, and it makes me wonder …"does someone up there read FishDuck.com?"
Of course … the play worked so well they quit doing it.
Nick at Night Knows …
Former Oregon defensive coordinator Nick Aliotti gave his commentary on the Pac-12 Network Saturday evening, and he confirmed what many of us felt about the passing game. He proposed that Oregon should have had more RPO plays (Run-Pass-Option) and should have rolled out Burmeister and used Bootlegs to emphasize his running ability if the receivers were not open.
He suggested that the Oregon quarterback could have had sprint-outs to one side, thus making it easier to read just half the field as well as allowing a safer throw. He was a bit critical about all the low-percentage passes thrown down the sidelines (fades or go-routes), as they have not yielded what could be achieved by looking at shorter patterns on the same play. Let's look at an example …
In the third quarter, Burmeister (above) throws the interception while attempting a long pass down the sideline on a third and three. As you see, three receivers were open for the first down as he is about to release the ball. Plays like this begin to make me think about his judgments, but then I am reminded that Burmeister's performance is typical of freshmen while what Herbert did last year was not the norm.
Apologists will say that the passing yardage doubled this week to 74, while Nick nailed it by saying …
"You can't have a passing game like that."
Amen, Nick! But at least it appears that the playbook is being opened a crack further and thus gives me hope about next year and the progression of this offense. In the meantime …"oh how we love to learn about our Beloved Ducks!"
Charles Fischer  (FishDuck)
Eugene, Oregon
Top photo credit: from Video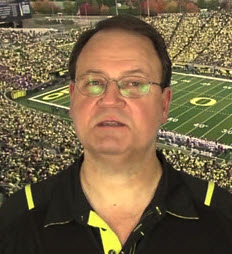 Charles Fischer has been an intense fan of the Ducks, a season ticket holder at Autzen Stadium for 35 years and has written reports on football boards for over 23 years. Known as "FishDuck" on those boards, he is acknowledged for providing intense detail in his scrimmage reports and in his Xs and Os play analyses. He and his wife Lois, have a daughter Christine, reside in Eugene Oregon, where he was a Financial Advisor for 36 years and now focuses full-time on Charitable Planned Giving Workshops for churches and non-profit organizations.
He does not profess to be a coach or analyst, but simply a "hack" that enjoys sharing what he has learned and invites others to correct or add to this body of Oregon Football! See More…
FishDuck Has New Off-Season Schedule and see the OUR BELOVED DUCKS Forum!
FishDuck articles will now be on Monday-Tuesday-Wednesday only during the off-season, and then we will go back to seven days a week during the football season beginning in August.
We will have some occasional guest articles later in the week, but the hottest Oregon football information will be posted in the OBD forum!
The Our Beloved Ducks Forum (OBD) is where we we discuss the article above and many more topics, as it is so much easier in a message board format over there.  At the free OBD forum we will be posting Oregon Sports article links, the daily Press Releases from the Athletic Department and the news coming out every day.
Be a part of the forum and stay caught up!  When you wish to post there, do know that you are protected just as you were on FishDuck. Join us on the free forum right here!
Our 33 rules at the free OBD Forum can be summarized to this: 1) be polite and respectful, 2) keep it clean, and 3) no reference of any kind to politics. Easy-peasy!
OBD Forum members….we got your back.  No Trolls Allowed!