Isn't this lovely? Writing and reviewing a game such as that one is truly like consuming the "Hair of the Dog" to offset the effects of it upon you. It is hard to not reach some conclusions, yet I am wary of over-reacting in either direction as I have in the past. It is difficult to be measured and reasonable after that loss to the Huskies, yet many important elements of the future of Oregon football were encouraging to me in the aftermath of analysis. Let's ponder them together, my friends…
Some Damn Fine Points About the Team…
Oregon has never run on other teams like this when they know it is coming. Never. For the Ducks to rush for 247 yards on a defense that had given up only 71 per game on average before is simply astounding and speaks well to the future with a line made up primarily of underclassmen.
This offensive line is the toughest I've ever seen at Oregon, and the make-over by Mario Cristobal is working incredibly well in just the first year of this coaching staff. The O-Line is meaner, tougher, and uses drive blocking techniques better than ever before, and yet retains the wonderful athleticism needed to block on the perimeter with Oregon's Outside Zone Read plays.
How different would that game have been with Justin Herbert playing? The answer is obvious, as the Ducks could have made quite a contest of it with a balanced offense, scoring to take pressure off the defense, etc.
Yet is is apparent that weaknesses at wide receiver, back-up tight end and back-up quarterback will need to be resolved by recruiting. Fortunately … Coach Taggart is doing a stellar job in that area, and it seems that just a few pieces can make all the difference.
The point total scored on this defense does not tell the full story, as the run defense and technique being taught and used by Jim Leavitt's defense is 300% better than last year. They only gave up ten points by halftime, and the sloppy tackling in the second half could be attributed to the despair of knowing your offense is so inept. Better tackling can be coached and will be corrected.
The blitzing on passing downs and the gap control on running downs is so much better by the defensive front seven this year, that you would think they were completely different players from last year. Again–no worries from me about Oregon's defense as we are on our way. When Jimmy Swain is the leading tackler with 13 total, the improvements from the defensive coaching becomes even more apparent.
Something about Washington's defense occurred to me, along with the improvement I am seeing from the Ducks: With decent talent you can have a very competitive defense when coupled with great coaching. The Huskies have some good players, but their success comes primarily from technique (that anyone can learn and do) and knowing where to be each play. Again that is due to coaching, and is another note added to my football "wisdom" bank.
The "Other" Things to Ponder…
We have not seen much improvement of the passing game with Braxton Burmeister, and the questions begin to swirl about quarterback development at Oregon. Are the issues due to coaching or due to the player himself? Is Herbert going to learn anything new under this staff to continue his development?
Cruel questions, but apt ones to ponder after seeing the results thus far. I am also seeing some distressing patterns emerging from what we have heard from the head coach…
"We will run our quarterback often, as that is our offense."

"We will primarily run just between the tackles in this offense."

"We will punt the ball to the best punt returner in NCAA history."
Why does Coach Taggart have to learn things the hard way with items that were obvious as hell to the rest of us? I wrote before the season that he had a lot to learn about coaching a Power-Five conference team, but I did not see this coming. It makes you wonder what obvious things are happening behind the scenes that, if you knew about, would make you slap your forehead and ask, "really?"  
Unfortunately, my little voice of football wisdom whispers in my ear, "Charles–we call these clues." Yet the apologist part of me who wants WCT to succeed is whispering in the other ear, "Nobody is perfect. He'll get better."
Then, the football wisdom voice again whispers, "Charles, you ignored the emerging signs of issues under Mark Helfrich … how did that go?" 
Yikes. Sometimes I wish I was just ignorant and oblivious like so many fans. Or maybe this is just a post-game Duck Delirium, brought about by the emotions that come with losing to the Huskies? Perhaps some of you have room on your counseling couch and can guide me through it? I would appreciate your feedback so we can deal with it all together…
In the meantime–remember the article from last Wednesday, as football is all the Huskies got!
Charles Fischer   (FishDuck)
Eugene, Oregon
Top Photo: Kevin Cline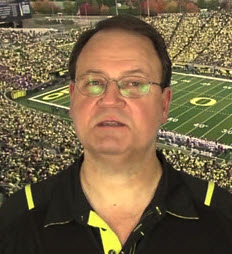 Charles Fischer has been an intense fan of the Ducks, a season ticket holder at Autzen Stadium for 35 years and has written reports on football boards for over 23 years. Known as "FishDuck" on those boards, he is acknowledged for providing intense detail in his scrimmage reports and in his Xs and Os play analyses. He and his wife Lois, have a daughter Christine, reside in Eugene Oregon, where he was a Financial Advisor for 36 years and now focuses full-time on Charitable Planned Giving Workshops for churches and non-profit organizations.
He does not profess to be a coach or analyst, but simply a "hack" that enjoys sharing what he has learned and invites others to correct or add to this body of Oregon Football! See More…
FishDuck Has New Off-Season Schedule and see the OUR BELOVED DUCKS Forum!
FishDuck articles will now be on Monday-Tuesday-Wednesday only during the off-season, and then we will go back to seven days a week during the football season beginning in August.
We will have some occasional guest articles later in the week, but the hottest Oregon football information will be posted in the OBD forum!
The Our Beloved Ducks Forum (OBD) is where we we discuss the article above and many more topics, as it is so much easier in a message board format over there.  At the free OBD forum we will be posting Oregon Sports article links, the daily Press Releases from the Athletic Department and the news coming out every day.
Be a part of the forum and stay caught up!  When you wish to post there, do know that you are protected just as you were on FishDuck. Join us on the free forum right here!
Our 33 rules at the free OBD Forum can be summarized to this: 1) be polite and respectful, 2) keep it clean, and 3) no reference of any kind to politics. Easy-peasy!
OBD Forum members….we got your back.  No Trolls Allowed!