I am delighted with the hire of Mario Cristobal as head coach at Oregon, and have been since his introductory press conference where he impressed the audience with his presence and his answers to me afterward concerning the Oregon offense. Any questions we had about his ability to recruit has been set aside considering how he achieved one of the best classes in Oregon history in a short time.
His ability to sell the majority of the current coaches under WT into believing in Oregon over Willie Taggart was an unexpected and impressive victory for Cristobal, the team and Duck fans. The foundation he has laid in "people" assets between coaches and players can help boost the Ducks into conference contention within a few years, and the culture he is beginning to establish is already building a better team in the off-season. (More on that in a later article)
It is a great start, but three huge questions loom in the background…
What

is

the"Cristobal Offense?"
The concern I had was whether he favored running the quarterback between the tackles as WT did, and Coach Cristobal brushed aside those concerns with an emphatic "no" in my short conversation with him at his first press conference. In another article we will discuss what "running the quarterback" really means, as it will still happen, but not in the method implemented by the prior head coach.
We don't know what the Cristobal offense is for certain, and I have cautious optimism about it from what I saw of his influence in the season, and additional indications given as to the direction of the Oregon offense. Something that we all know is–the offense is our brand; the scoring, and No-Huddle are what made us a popular team to watch, and the concern is that he will turn it into a tougher, slugging, lower scoring team that focuses on defense and a running game and wins by an NFL-type of 24-16 game scores.
That would kill the brand; we do not want to become Stanford-North…
The week of the Utah game was crucial for Oregon and for an indication of what was to come, as Mario explained that he nearly slept in the office trying to come up with a new way to attack the Utes that could work with freshman Braxton Burmeister. What I believe he was doing, was studying tape of the Oregon offense under Kelly/Helfrich and was bringing those plays into the WT playbook. The results were an incredible running game as the Sweep Reads, and Outside Zone Read plays were seen once again.
With the balance of running well outside (which was suited to the offensive linemen recruited to Oregon) and the power game inside that WT and Cristobal were establishing–balance in the running attack was achieved and I think Cristobal became a believer. I am not sure he has ever had seen such cutback lanes and how running backs making one man miss in the open field could turn a routine play into an explosion gain.
Coach Cristobal also noted the incredible capacity of a skilled passing quarterback when Justin Herbert returned from injury, and hence I believe we will see explosive components added in the passing game as explained by Coach Eric Boles recently for our readers. The best combination possible would be a rugged offensive line creating holes inside and yet attacking the perimeter … but with a balance in the passing game.
When he spoke to me–he emphasized balance in the offensive attack between running inside and out, and passing versus running. I want to believe that as it is the best of both the Kelly/Helfrich Offense and the new Cristobal/Arroyo/Mastro offense. We wonder if his Alabama roots won't make him hunker down to a power offense, but again–I believe he learned what Oregon can be in the latter part of the season.
It will be fun to watch this spring and fall…
What about GAME MANAGEMENT?
It's funny how this is a component I had complete confidence in with Coach Brooks and Bellotti, and watched Chip evolve to where I knew he and Mark (when they were together) would have superb adjustments through the game and at halftime. Coach Taggart was the anomaly in staying stubborn to a game plan that clearly was not working. I and many coaches that write for FishDuck.com felt that there were games that could have been won this year with more flexibility in game management and adjustments.
With Coach Cristobal–it is a massive question mark. Coach Marcus Arroyo has been a play-caller before and run many offenses, and Coach Mastro can advise on utilizing the Pistol formation even further than what Oregon has done. The benefit to hiring Mario was that he was there, and was a part of the what worked later in the season and the evolution of it. Hopefully the learning curve will be much less as a result of him being on staff this last year.
This is not going to be answered until the season gets going and probably not until two-thirds the way through the season. The expertise is present on the staff to be far superior to what WT achieved, but the majority of current coaches were present last year as well and were not utilized. This is going to be a very interesting drama to watch play out, and Coach Cristobal's experience as a former head coach may influence this aspect of the team more than others.
What is his MOTTO or SLOGAN?
We all can admit that "Win the Day" by Coach Kelly was superb, and although I was "meh" at first about "Do Something," … it grew on me and had wide applicability. What will Coach Cristobal's slogan be? Do you think it is important he have one? I do, as it sets a tone and a philosophy throughout the organization.
Mine is simple; "Achieve NOW."
Again, wide applicability and has an urgency to every day.
What would yours be?
I am curious as to the thoughts of readers about the other questions of the offense and game management, as this is the time to have fun contemplating these issues.
"Oh how we love to ponder our Beloved Ducks!"
Charles Fischer   (FishDuck)
Eugene, Oregon                                                                                                  Top Photo by Gary Breedlove
P.S. At times we will only have two articles a week, one always on Mondays, but keep checking in. I can't stay away from a keyboard and will be writing every week… (We have a killer article on Monday from a former college player that gives tremendous insight and understanding unlike anyone else.)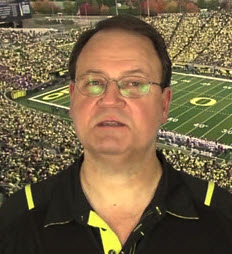 Charles Fischer has been an intense fan of the Ducks, a season ticket holder at Autzen Stadium for 35 years and has written reports on football boards for over 23 years. Known as "FishDuck" on those boards, he is acknowledged for providing intense detail in his scrimmage reports and in his Xs and Os play analyses. He and his wife Lois, have a daughter Christine, reside in Eugene Oregon, where he was a Financial Advisor for 36 years and now focuses full-time on Charitable Planned Giving Workshops for churches and non-profit organizations.
He does not profess to be a coach or analyst, but simply a "hack" that enjoys sharing what he has learned and invites others to correct or add to this body of Oregon Football! See More…
FishDuck Has New Off-Season Schedule and see the OUR BELOVED DUCKS Forum!
FishDuck articles will now be on Monday-Tuesday-Wednesday only during the off-season, and then we will go back to seven days a week during the football season beginning in August.
We will have some occasional guest articles later in the week, but the hottest Oregon football information will be posted in the OBD forum!
The Our Beloved Ducks Forum (OBD) is where we we discuss the article above and many more topics, as it is so much easier in a message board format over there.  At the free OBD forum we will be posting Oregon Sports article links, the daily Press Releases from the Athletic Department and the news coming out every day.
Be a part of the forum and stay caught up!  When you wish to post there, do know that you are protected just as you were on FishDuck. Join us on the free forum right here!
Our 33 rules at the free OBD Forum can be summarized to this: 1) be polite and respectful, 2) keep it clean, and 3) no reference of any kind to politics. Easy-peasy!
OBD Forum members….we got your back.  No Trolls Allowed!