Some of you must think I'm off my rocker, as Chip Kelly is known for great success through his extraordinary 46-7 tenure in Eugene. Yet he made some mistakes that prevented him from winning the National Championship; mistakes that were not football related. The question on my mind: will he repeat these blunders at UCLA?
Did he learn and grow from these past errors, or is the old saying true in this case that "a leopard doesn't change his spots?" This will be a tremendously interesting drama to watch for those of us who have already seen this act before in Eugene…
Alienating the Bedrock of Oregon Support
Going to Oregon Club on Mondays was a ritual for many Oregon boosters/fans. Former head coach Mike Bellotti would throw us some tidbits about the team and regale us with funny stories. The information was never earth-shattering or helpful to opposing teams, but it was just plain fun. Mike had a sense of humor and was truly charming with the fans; everyone liked Coach Bellotti enormously.
Chip Kelly just killed the experience for us. He would tell us nothing, and even went out of his way to show his feelings that the event was a waste of time for him. He was painful to watch speak publicly, and he made Oregon Club a bore, but the guy was winning–so we put up with it.
Other disconcerting stories began to surface, as Kelly skipped meetings with major boosters and even went out of his way to refuse to sign a football for a friend of mine as he spun and walked away. Chip Kelly truly alienated the group that was the backbone of continued Duck success, and he did not care.
The tales of Chip turning away former players became legendary, and the program today is still mending fences with the disaffected. Chip bit the hand that fed him, and thus I wonder: "how long will this work in Westwood?" Perhaps more interestingly, "will it work if he isn't winning 10-11 games a year?" You can't burn bridges with alumni, former players and boosters and expect it to go well if you are not winning fabulously.
Turning the Media Against Him and Oregon
I will never forget the former TV sports anchor who sat in my office and shared with me the issues that Chip had with the media. Chip truly loathed the press, and angered the entire state of Oregon media as he would ridicule those asking questions and made the sportswriters know at every encounter who the smartest person in the room was. Within a year he had all the Oregon media hating him, and wincing at the thought of another haughty news conference with the Oregon head coach.
"I've interviewed hundreds of coaches, and never been so insulted, and yet he acted like a reasonable question was justification for his attacking response."
The story this journalist told me was surprising to hear in person, yet had become routine at Oregon press conferences over time. Without reciting it all–this journalist told me the question he asked Kelly, and it was a usual one for the media to ask the week of a game. Yet Chip took it personal, and then made his response personal to the sports reporter.
Remember when we would see a two minute listing of Oregon's supposed recruiting violations at every ESPN telecast for a couple year period? This sportscaster revealed that it was an example of how when the media had a chance to get back at Chip, they did (whispers were that ESPN hated working with Chip at this time).
This would go on to damage recruiting and leave the Ducks without a few crucial defensive recruits who were scared off by the potential sanctions. You know–the kind of players that would have been the final pieces to winning a national championship. The sanctions later turned out to be almost nothing, but the damage created by Coach Kelly himself was ultimately far worse.
All because he liked to torgue off the media….
Chip's Disdain for Recruiting
This is well-known fact for Oregon fans, but Bruin fans may not know some of the policies Chip had with the Ducks. It will interesting to compare to how UCLA conducts their recruiting process under Kelly. Will Chip make the same mistakes?
The issues were two-fold: he insisted that he give approval after his own process, before any offer was issued, and he often did not follow-up with players who were interested in Oregon and potentially could have made a difference for the Ducks.
The recruiting process for players goes on much sooner now than six or seven years ago, and it was during Chip's time at Oregon that the transformation was taking place with national recruits. Chip insisted that he personally would have to watch film on every player and approve a scholarship offer. As busy as he was–often an offer was extended long after a player had given up waiting on Oregon (despite being initially interested!) and had committed to another Pac-12 school.
Precious players slipped through Duck feathers simply because of process decisions by Chip!
Without naming names … a particular player selected high in the NFL draft originally wanted to come to the Ducks, and he was at a position of need. He loved his visit, and wanted to verbal to Oregon, but was told to go home and "think about it." The signals given by the coaching staff were frequently misunderstood, and with the lack of follow-up recruits were all to often lost to other schools (the one I'm thinking of actually went to UCLA).
Chip's defensive coordinator with the Bruins is Jerry Azzinaro, who is a brilliant tactician, but known also to loath the recruiting demands of college football. This will be fascinating to watch over time to see if Chip has changed, or if the Bruins experience the underachievement in recruiting that Chip oversaw at Oregon.
When you consider the impact of the gaffes discussed above, it honestly goes to show what a remarkable coach Chip Kelly was to still win at the level he did in Eugene, Oregon, far from the land of the college football blue-bloods. I am eternally grateful for what he achieved at Oregon, but nevertheless, what I wrote of above is something that many Oregon fans have cursed about under their breath for some time. Chip was most certainly the proverbial double-edged sword…
Will he be different at UCLA? It is going to be part of my fall entertainment, as it will be for Bruin fans!
Will the Chip Kelly Offense work in Westwood? Don't miss the other article, Lies, Damned Lies, and Chip Kelly Offensive Narratives
Charles Fischer   (FishDuck)
Eugene, Oregon
Top Photo from Video
(Bruin fans–please take note of our Commenting Rules as there will be no insulting, no name calling, no belittling or even back-handed compliments. If so, then your comment will be deleted immediately and your IP Address blacklisted if it is especially objectionable or happens more than once.
We welcome disagreement and thoughtful reasoning; present your case logically as I have above and we'll both learn from each other. You will find this readership to be very discerning, and discussions in comments to be as interesting reading as the articles.)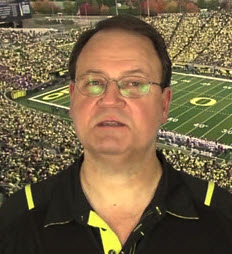 Charles Fischer has been an intense fan of the Ducks, a season ticket holder at Autzen Stadium for 35 years and has written reports on football boards for over 23 years. Known as "FishDuck" on those boards, he is acknowledged for providing intense detail in his scrimmage reports and in his Xs and Os play analyses. He and his wife Lois, have a daughter Christine, reside in Eugene Oregon, where he was a Financial Advisor for 36 years and now focuses full-time on Charitable Planned Giving Workshops for churches and non-profit organizations.
He does not profess to be a coach or analyst, but simply a "hack" that enjoys sharing what he has learned and invites others to correct or add to this body of Oregon Football! See More…
FishDuck Has New Off-Season Schedule and see the OUR BELOVED DUCKS Forum!
FishDuck articles will now be on Monday-Tuesday-Wednesday only during the off-season, and then we will go back to seven days a week during the football season beginning in August.
We will have some occasional guest articles later in the week, but the hottest Oregon football information will be posted in the OBD forum!
The Our Beloved Ducks Forum (OBD) is where we we discuss the article above and many more topics, as it is so much easier in a message board format over there.  At the free OBD forum we will be posting Oregon Sports article links, the daily Press Releases from the Athletic Department and the news coming out every day.
Be a part of the forum and stay caught up!  When you wish to post there, do know that you are protected just as you were on FishDuck. Join us on the free forum right here!
Our 33 rules at the free OBD Forum can be summarized to this: 1) be polite and respectful, 2) keep it clean, and 3) no reference of any kind to politics. Easy-peasy!
OBD Forum members….we got your back.  No Trolls Allowed!