With Coach Marcus Arroyo taking on duties as full-time offensive coordinator for the Oregon Ducks, I thought it would be worth continuing to look at a few plays he picked up with the Oklahoma State Cowboys.
A play that I would love to see implement into the Oregon offense is a variation of the Split Zone that the Cowboys like to run. The Split Zone is usually a typical Inside Zone, where the backside defender is left unblocked and the Tight End/H-Back picks him up with a slice block.
Above, Oklahoma State runs something a little bit different. They do something the Ducks started last year by using motion to make the base play more effective. It's easy to see how the threat of the Jet Sweep effects the defense enough to spring the Running Back for big yardage.
Notice in the diagram above that instead of using an Inside Zone blocking scheme, the offensive line is performing an Outside Zone blocking scheme (green arrows above). This helps to sell the idea of the slot receiver getting the ball on the sweep play (yellow arrow above).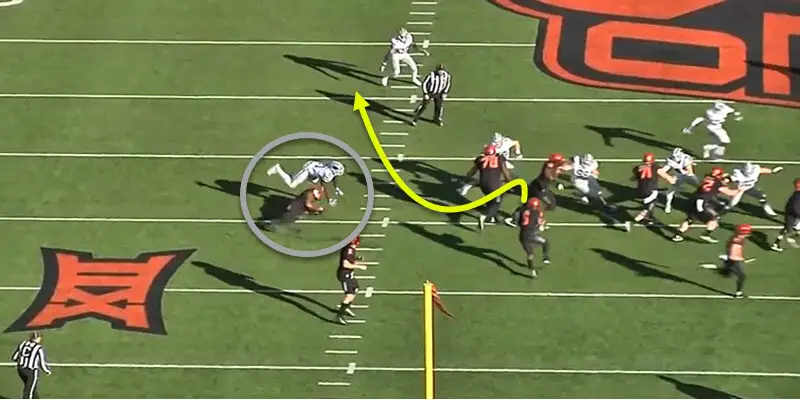 In this next diagram, it's easy to see the over pursuit by the defense in response to the Jet Sweep action. This is further compounded by the fact that the Running Back actually presses the middle of the Offensive Line before using the cutback lane (yellow arrow above). This lane is created by a great slice block (grey circle above) that puts the backside defender on the ground.
I especially like this variation of the Split Zone because it incorporates a couple aspects of the Oregon offense that already exist elsewhere. The first aspect is the motion, which has become an effective tool in Eugene that this plays exploits even more.
The second aspect is the style of running back currently on the Duck roster. As it stands, we don't have another bruising back like Royce Freeman, at least not a proven one. This play doesn't require that. Because of the amount of misdirection, all that's needed is a patient back that can explode through an open lane, and we have a roster full of those type of backs. I look forward to seeing variations of Split Zone misdirection on the field this fall.
Coach Eric Boles
Newark, Ohio
Top Photo Credit: from Video

Fantastic FishDuck.com Discussion!
The comments below the articles have drawn raves from so many, and I do appreciate your emails about it.
Be a part of it!  If you check the rules, you will see that I protect everyone from the trolls.  So, there is no downside!  We want to hear from all readers on all the articles, so jump in Ducks, (as the water is fine) and be a part of this tremendous community!