And a good day to you, lads and lassies, on the feast day of St. Patrick!  Kermit the Frog became a wealthy sock when he declared, in scratchy melody, "It Ain't Easy Being Green."  Silly frog.  Not only is it easy being green, it's downright refreshing!  First a little history:
St. Patrick was born in 367 in the town of Kilpatrick, near Dumbarton, in Scotland.  At least we think he was.  There is some murkiness as to when Patty was actually born since there is also evidence that he was born in 379…and 397.  Presumably his long-suffering mother wasn't actually in labor for 30 years, so we'll go with the early number and assume that he lived to be 106.  When he was 16, we are told, he was kidnapped by Irish raiders and imprisoned in County Antrim, where he resided for six years.  According to him, God came to him in a dream and told him to escape to the coast where a British ship would be anchored.  He was supposed to board the ship and escape captivity.
His escape successful, Patrick decided to study for the priesthood.  Upon graduation he decided to begin his ministry…IN IRELAND! THAT'S RIGHT!  THE ULTIMATE ECCLESIASTICAL IN YOUR FACE!  KIDNAP ME WILL YOU?  I'LL HEAR YOUR CONFESSION NOW YOU DIRTY LOUTS.  TELL ME YOUR SINS, KNAVES!
Patrick was a rock star, long before The Beatles.
Such a rock star , he was, that soon they began telling tales of his mighty deeds.  A healing here, a healing there, and then the big Schabeemer!  The expulsion of snakes from the Emerald Isle.  "OUT OF HERE, SERPENTS!  AWAY, YOU ASP!"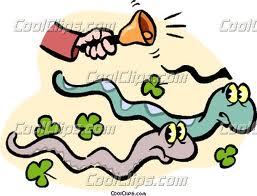 Now, according to archaeologists and other scolds and ruiners of good stories, there have never actually been snakes in Ireland, at least not since the last Ice Age.  That said, it's St Patrick's Day, y'all, and we're not going to let facts get in the way of a good stein of green beer.   Let's go with it, maybe throw in a thought about thieves and villains of the day wearing snake tattoos, and celebrate the good St. Patrick with everyone else who is Irish…at least for today.
Fortuitously enough, St. Patrick's Day falls less than a week before the first day of spring.  The season of renewal, belying the fact that ice fell from the sky in Eugene earlier this week, is finally here.  This week let's celebrate together the beginning of the season in which rebirth will eventually come from the mud bog that is currently your garden.  I promise it will.  To that end I raise a glass of green beer to:
1.) Duck Basketball:  I turned on the Big Dance Thursday morning and alas, the Ducks were not to be found.  That sucks.  But, there is reason to be proud and hopeful nonetheless.  Dana Altman, in just a couple of short years, has put a hustling, fun to watch product on the court. We may not be in the Big Dance, but we're in the Little Dance.  Since we're dancing we might as well dance into New York City and dazzle them with what we can do in dancing shoes.  Last year the CBI, this year the N.I.T., next year?  The year after??  The year after that??????????  Cheers!
2.) Cinderella:  No, not the fairy tale girl who so enchanted the Prince that he couldn't remember her face or whether or not she had gunboats for feet.  Good lookin' out, Cindy.  I'm talking about the REAL Cinderellas of March. Who will it be this year?  VCU again?  Colorado?  The tournament that taught us all how to spell Valparaiso some years back will no doubt offer buzzer beaters, half court swishes, clutch late game defense, and one shining moment.  Now if only it had Gus Johnson.  "PUT THE CINDERELLA SLIPPER ON CREIGHTON??? YESSSSSSSSSS!!!"  Cheers.

3.) Duck Baseball: From the depths of non-existence to ranked and competitive, Oregon baseball has built a small, but loyal and growing, following in the Willamette Valley and beyond.  George Horton's men in green have grown from a blip on the radar to a thorn in the side of the bark chewing, inbred grazers to the north.  At this writing the Ducks are 12-3 on the season and have a nucleus of strong arms and timely hitting that bodes well for the most loyal fans in the West.  Cheers.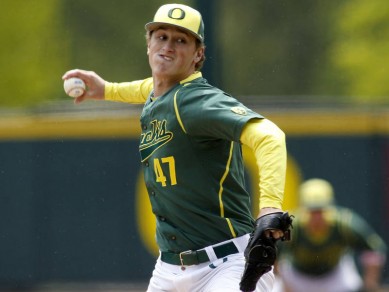 4.) MLB:  Sometimes I worry.  I worry about a generation for whom "Skyrim: The Elder Scrolls" is nuanced entertainment.  I tried.  Really I did.  I read up on it, but when I got to "Many Nords from Skyrim emigrated to Bruma during the Imperial Invasion, to become citizens of Cyrodiil, in fear of being killed or imprisoned." I decided that I needed a nap.  No such nap will be necessary, though, when they throw out the first pitch of the baseball season.  Buy me some peanuts and Cracker Jack (you're not cool if you put an "S" on the end of Cracker Jack) baby.  It's time to see whether YOUR favorite steroid enhanced freak show will outhit MY favorite steroid enhanced freak show this summer.  Better yet, both the Los Angeles Dodgers and the San Francisco Giants are coming to Seattle this summer.  Agony and Ecstasy there.  Cheers.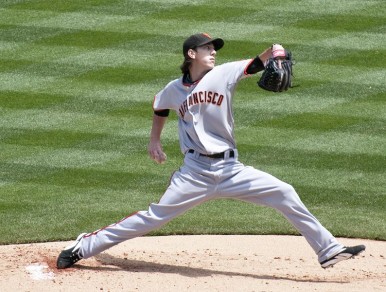 5.) Flowers: Specifically, roses.  Have I mentioned that the 2011-12 Oregon Ducks are the Rose Bowl Champions?  Cheers.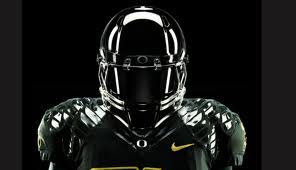 6.)  Tans From Actual Sunshine:  One of the best parts of living in Eugene was watching the girls near campus the first day the sun came out in January.  They were so…orange!  Nowadays, of course, there is spray on tans and tanning beds and all manner of things to make it look like the bathing beauty has been in Tahiti for a month.  None of it is as real as real though.  Now that the sun is peeking out all of the Tracys, Laceys, and Maceys can get that tan that thrills the soul of an oncologist…but the doctor is a long time down the line.  Bake and baste, Sweetie!  Cheers.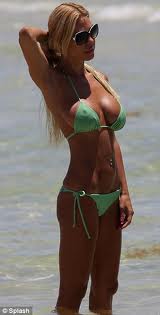 7.)  Bicyclists in Shorts:  My wife is from California.  She thinks that it's silly when people bike in shorts when it's barely more than 50 degrees.  I think it's silly to live in a state that might crack open at any second.  Point Pacific Northwest.  Cheers.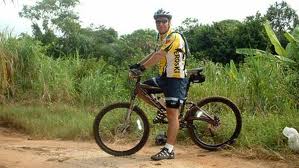 8.)  Being a Duck:  There is something to be said for being a Duck.  There is the atmosphere on game day, the quality of the education, the relationships built that will last a lifetime, and the cheerleaders.  Often understated, though, is the fact that our mascot is the only mascot in the Pac-12 that doesn't drool..  We all know what chaos can ensue when a Trojan drools.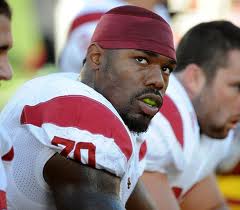 Cheers, Ducks!  Here's to you all spring long!
Kim Hastings is a 1984 graduate of Northwest Christian College. He cut his journalistic teeth as sports editor of a paper in his home town of Fortuna, CA, and, later as a columnist for the Longview Daily News in Longview, WA.
He saw his first Oregon game in 1977 and never missed a home game from 1981 until a bout with pneumonia cut his streak short in 1997. He was one of the proud 3200 on a bitterly cold night in Shreveport, Louisiana in 1989 for the Independence Bowl, and continues to be big supporter of Oregon sports. He is an active participant on the various Oregon Ducks messageboards as "TacomaDuck."
FishDuck Has New Off-Season Schedule and see the OUR BELOVED DUCKS Forum!
FishDuck articles will now be on Monday-Tuesday-Wednesday only during the off-season, and then we will go back to seven days a week during the football season beginning in August.
We will have some occasional guest articles later in the week, but the hottest Oregon football information will be posted in the OBD forum!
The Our Beloved Ducks Forum (OBD) is where we we discuss the article above and many more topics, as it is so much easier in a message board format over there.  At the free OBD forum we will be posting Oregon Sports article links, the daily Press Releases from the Athletic Department and the news coming out every day.
Be a part of the forum and stay caught up!  When you wish to post there, do know that you are protected just as you were on FishDuck. Join us on the free forum right here!
Our 33 rules at the free OBD Forum can be summarized to this: 1) be polite and respectful, 2) keep it clean, and 3) no reference of any kind to politics. Easy-peasy!
OBD Forum members….we got your back.  No Trolls Allowed!