About seven years ago a doctor told me that I should have a colonoscopy pretty soon.  Since soon is subjective I haven't had one done yet.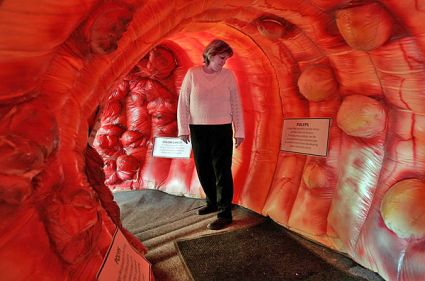 If she is walking around in there I don't want to know.Today, though, is a unique day.  I have espn.com on auto refresh to stay up to date on any facts.  I have a… ahem… competing site on auto refresh to stay up to date on any rumors.  I'm slowly driving myself crazy.  And it's all because of a man that I've never met.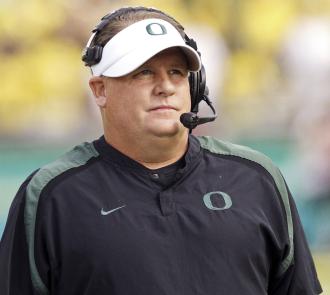 You see, fans around the country think that we love Chip because he wins.  Heck yeah, that's part of it.  Who wants to be mediocre (would someone turn off that infernal barking)?  They think that we love Chip in spite of his peculiarities.  Things like closed practices, abrupt answers to stupid questions, giving short shrift to those who believe because they are donors that he should carry their golf clubs.
They are wrong.  Oregonians (and Duck fans smart enough to be Duck fans even if they live outside of Oregon) are a peculiar lot ourselves.  We love Chip because of his peculiarities.  We love his unique brand of courtliness.

We love his play cards.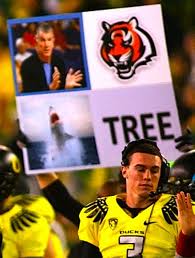 We love going for two.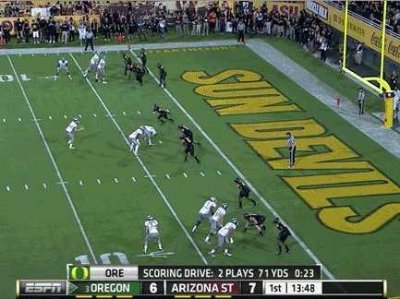 We love everything about Duck football right now.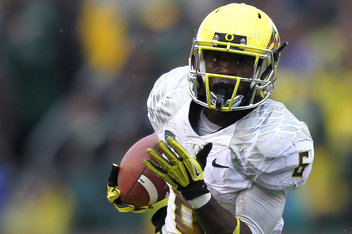 That's why I have this annual introspective day.  What can I do to keep the winning alive?  Could I offer to come to Chip's house sometime this summer and varnish his deck?  Or maybe he wants  something a bit more…personal…painful.  Say the word Chip, and I will let a doctor, who hasn't even taken me to dinner, perform medical acts of infinite humiliation on my person.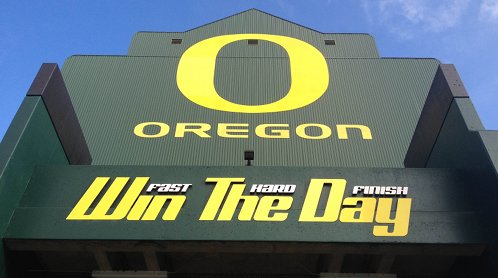 Just don't leave me.
Kim Hastings
Tacoma, Washington
Kim Hastings is a 1984 graduate of Northwest Christian College. He cut his journalistic teeth as sports editor of a paper in his home town of Fortuna, CA, and, later as a columnist for the Longview Daily News in Longview, WA.
He saw his first Oregon game in 1977 and never missed a home game from 1981 until a bout with pneumonia cut his streak short in 1997. He was one of the proud 3200 on a bitterly cold night in Shreveport, Louisiana in 1989 for the Independence Bowl, and continues to be big supporter of Oregon sports. He is an active participant on the various Oregon Ducks messageboards as "TacomaDuck."
FishDuck Has New Off-Season Schedule and see the OUR BELOVED DUCKS Forum!
FishDuck articles will now be on Monday-Tuesday-Wednesday only during the off-season, and then we will go back to seven days a week during the football season beginning in August.
We will have some occasional guest articles later in the week, but the hottest Oregon football information will be posted in the OBD forum!
The Our Beloved Ducks Forum (OBD) is where we we discuss the article above and many more topics, as it is so much easier in a message board format over there.  At the free OBD forum we will be posting Oregon Sports article links, the daily Press Releases from the Athletic Department and the news coming out every day.
Be a part of the forum and stay caught up!  When you wish to post there, do know that you are protected just as you were on FishDuck. Join us on the free forum right here!
Our 33 rules at the free OBD Forum can be summarized to this: 1) be polite and respectful, 2) keep it clean, and 3) no reference of any kind to politics. Easy-peasy!
OBD Forum members….we got your back.  No Trolls Allowed!