This We Love to Hate our RIVALS section is one of 12 new sections of the incredible 1,000+ piece Oregon Football Repository that can be found up on the Toolbar. It has been a blast to find all these articles and videos, and my hope is that these new sections will be a great place to retreat to when you want a break from "real-life" and wish the pleasant diversion of reading about our Beloved Ducks.
What actually began the Husky Hatred among Oregon Fans?
Did the Beavers really have over a dozen names before the current one, and actually began as Corvallis College?
There have been some superb articles published on this site that are humorous, with others being informative about the rivalries we have with Washington and Oregon State. Below are links to two subsections of FishDuck.com to click on that have short collections of articles about each rivalry, and can become a source of entertainment as well as being a resource for information about our rivalries with our neighbors to the north.
You are going to howl at some of the items you will read!
Go Fish-Get Hooked!
Help us Build and Maintain an Oregon Football Repository at FishDuck.com for all Duck fans!
The Oregon Football Repository is massive and contains 1,000+ Articles and Videos in 12 sections:
Oregon Analysis Library
ChileDuck's Updated Football Depth Chart
Oregon Highlight Videos
Music for Ducks' Ears
History of Oregon Football
Men of Oregon: Players and Coaches
The BEST Recruit Talent Evaluations
The BEST of "The Duck"
The BEST of FishDuck.com Humor!
Oregon's Amazing Uniforms
Savor the "Autzen Magic"
We Love to Hate our RIVALS
Click on the live links above and enjoy!
Current articles of Analysis, Editorials, Coach's Opinion, and Talent Evaluation will continue with new articles every week on Mondays and Wednesdays (and sometimes Fridays) at FishDuck.com as before.
Mr. FishDuck has already put tens of thousands of dollars into the site (with nothing in return) and needs help to keep these 1,000+ articles (incredible!) available, to add to them over time, and to allow him to continue to write every week. We want to keep all of this on the site free to all Oregon fans, for a very long time.
Please donate to make this site a gift to all Oregon fans as a long term source of Oregon Football Information!
Could you send a gift of $100.00 of which is eight dollars a month or a cup of coffee a week. (Two dollars a week-cheap!)  
Please donate to FishDuck.com at the PayPal button below under the account of charles@fishduck.com and you can also donate using your credit card by clicking on the button below.  Thank you from all of us at FishDuck.com!
Want to send a check? Make it out to FishDuck.com and send to:
FishDuck.com, Charles Fischer
1500 Valley River Dr. Ste 315
Eugene, OR 97401
Our entire staff thanks you!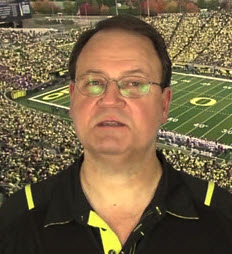 Charles Fischer has been an intense fan of the Ducks, a season ticket holder at Autzen Stadium for 35 years and has written reports on football boards for over 23 years. Known as "FishDuck" on those boards, he is acknowledged for providing intense detail in his scrimmage reports and in his Xs and Os play analyses. He and his wife Lois, have a daughter Christine, reside in Eugene Oregon, where he was a Financial Advisor for 36 years and now focuses full-time on Charitable Planned Giving Workshops for churches and non-profit organizations.
He does not profess to be a coach or analyst, but simply a "hack" that enjoys sharing what he has learned and invites others to correct or add to this body of Oregon Football! See More…
FishDuck Has New Off-Season Schedule and see the OUR BELOVED DUCKS Forum!
FishDuck articles will now be on Monday-Tuesday-Wednesday only during the off-season, and then we will go back to seven days a week during the football season beginning in August.
We will have some occasional guest articles later in the week, but the hottest Oregon football information will be posted in the OBD forum!
The Our Beloved Ducks Forum (OBD) is where we we discuss the article above and many more topics, as it is so much easier in a message board format over there.  At the free OBD forum we will be posting Oregon Sports article links, the daily Press Releases from the Athletic Department and the news coming out every day.
Be a part of the forum and stay caught up!  When you wish to post there, do know that you are protected just as you were on FishDuck. Join us on the free forum right here!
Our 33 rules at the free OBD Forum can be summarized to this: 1) be polite and respectful, 2) keep it clean, and 3) no reference of any kind to politics. Easy-peasy!
OBD Forum members….we got your back.  No Trolls Allowed!